Friday, February 8
Eureka! My five year old daughter just invented the assembly line...
Ok, I'm bending the rules here, because this week I'm sharing this instead of a photo, but I thought you all might
e
njoy this
e
ntertaining video of my imaginative G-Girl.
What do you think, have I got a little engineer on my hands here?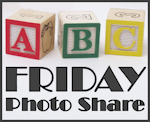 Encouraging, enlightening, entertaining?
I'm looking forward to each and every E post.